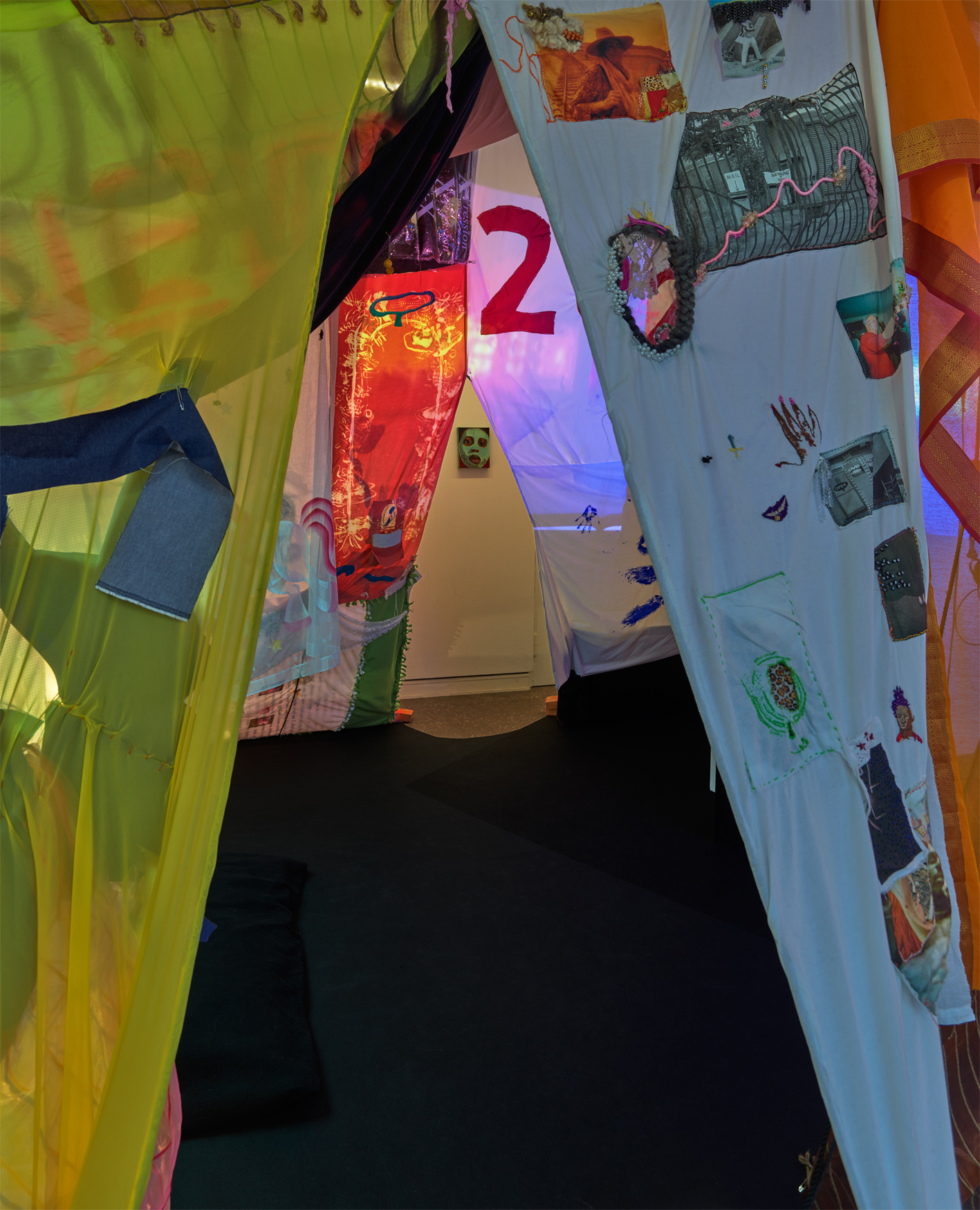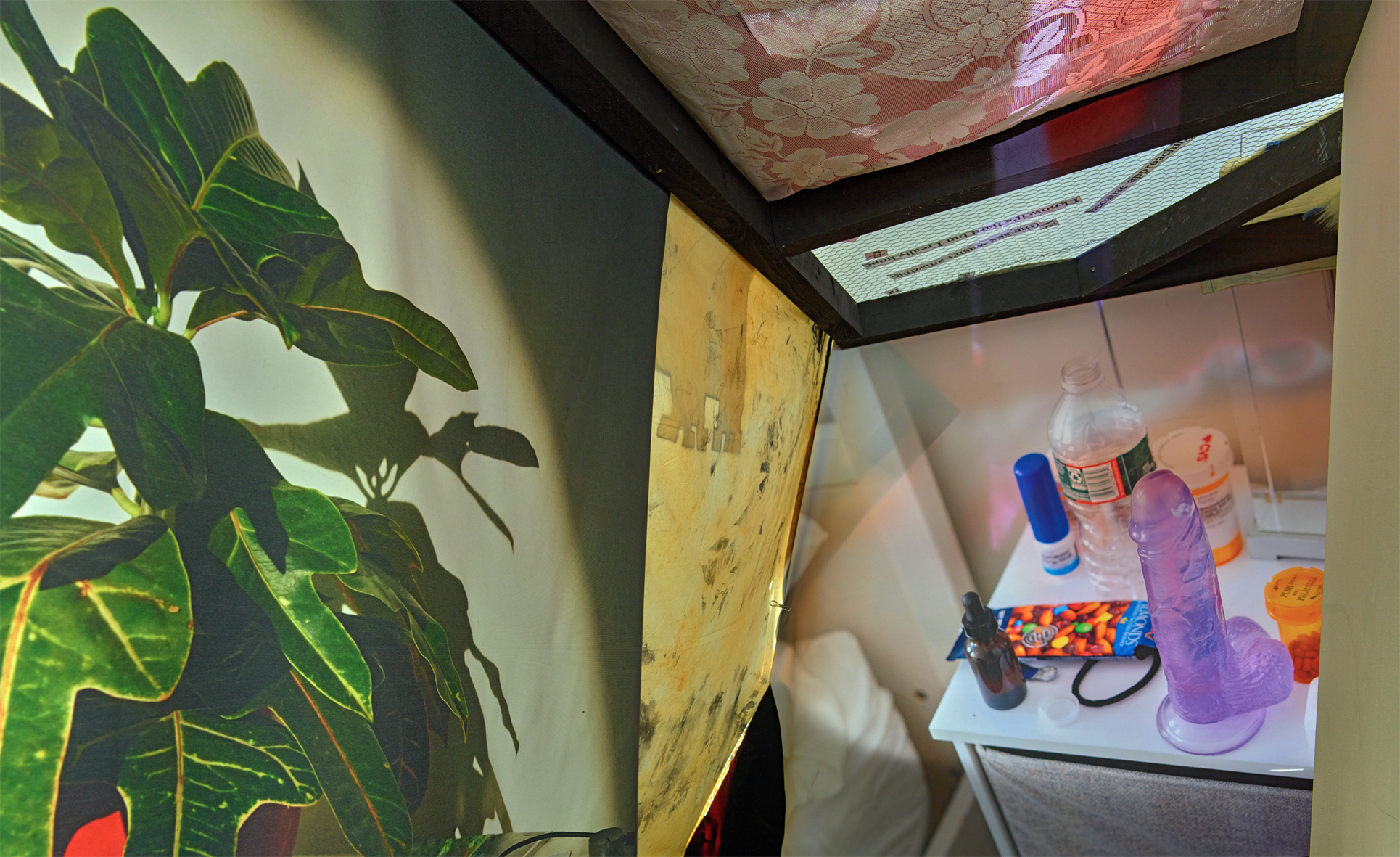 HANDS FULL OF AIR
10.12.20 – 28.03.21
at Galerie im Turm in Berlin, Germany

Where do the edges of the individual end and those of the community begin? How can this reflexive relationship be used to recover knowledges and techniques that can resist and transmute the corruptions of oppressive systems?

In Hands Full of Air, Monilola Olayemi Ilupeju explores intuition and vulnerability as a starting point for a practice of collective care. Influenced by the ephemeral nature of blanket forts, the immersive installation comprises altered bedsheets and textiles contributed by her friends and artists from around the world. Each piece embodies an affective moment, a trace of intimacy, or a gesture of love. Into this collaborative support structure, Ilupeju weaves her own videos, paintings, fabrics and objects, in which she examines the formation of the self within constructed epistemologies of sexuality, history, and representation.

Ilupeju's work is an attempt to dwell in the ambivalent space between exposure and isolation, to find recognition in the discomfort of shared vulnerabilities. By blurring the lines of authorship and borders, the artist reflects on the constitution of identity and on empathy as a tool of resistance. The subversion of the fort structure demonstrates the ways in which collective fragility and porosity can generate spaces where different forms of seeing and listening unfold and where vulnerability is transformed into resilience and self-empowerment.

WITH FABRIC CONTRIBUTIONS BY Sharmeen Anjum, Peter Basma-Lord, Anguezomo Mba Bikoro, Lu Rose Biltucci, Ellie Lizbeth Brown, Federica Bueti, Lucia Pedroso Cabrera, Olivia Chou with Ally Zhao, Binta Diaw, Nathan Storey Freeman, Bambi Glass, Danny Greenberg, Riya Hamid, Nile Harris, Samhita Kamisetty, Avantika Khanna, Byron Kim, Eleanor Kipping, Beverly "KöTA WALi", Kelly Krugman, Cooper Lovano, Markues, Adam Milner, Emily Velez Nelms, Luiza Prado, Thomias Radin, Elliot Reed, Djibril Sall, Lorenzo Sandoval, Lili Somogyi, among others.

Curated by Jorinde Splettstößer

Installation Photos by Eric Tschernow

View fabric contributions here. Photos by Raisa Galofre.

Interview with Monilola Olayemi Ilupeju about Hands Full of Air, by Mayra A. Rodríguez Castro

TEAM

CURATOR Jorinde Splettstößer
CO-CURATOR Linnéa Meiners
CURATORIAL ASSISTANCE Sofía Pfister
HEAD OF PRODUCTION Carolina Redondo
INSTALLATION ARCHITECTURE Benjamin Busch
INSTALL TEAM Claudio Aguirre, Johann Hackspiel, Felipe Monroy, Benjamin Thomas
PROJECT ASSISTANCE Dani Hasrouni, Sophie Lösch, Sophie McCuen-Koytek
TRANSLATIONS Saskia Köbschall, Sophie McCuen-Koytek
GALLERY SUPERVISION Ferdinand Gieschke, Daniel Noack


ARTIST THANKS

This exhibition is dedicated to my dear friend Byron Kim (1997-2020). My gratitude is endless and you are in my heart always.


As this project was motivated by the desire to more deeply understand the ties between individuals and their communities, it would not have been made possible without the people who I am lucky to call my friends, supporters, collaborators, and inspirations.

I want to thank Merilyn Chang, Mayra Rodríguez Castro, Anguezomo Mba Bikoro, Federica Bueti, Morgan Gu, Markues Aviv, Raisa Galofre, Luiza Prado, and the other artists and friends who, by contributing their piece of fabric or sharing their perspective on the subject, entrusted me with an intimately architectural part of my installation.

I would also like to send my deepest thanks to Richie Kim and the Kim Family for giving me the space to honor Byron's memory through this show and Emily Castronuovo for so kindly sending me the piece from New York that Byron had been working on for the installation. My gratitude extends to my loving parents, Veronica Atinuke Goncalves and Oluremi Tunde Ilupeju, who have shown their unwavering support of my artistic practice since the beginning, as ambiguous as it can seem at times.

Thank you to Benjamin Busch and Lorenzo Sandoval, the team at The Institute for Endotic Research — TIER, for giving me the space to develop this work during my process-based exhibition Eve of Intuition earlier this year. I am also so appreciative to the Head of Production Carolina Redondo and her mounting team for making the install of this work such a laughter-filled, synergetic experience. And lastly, I would like to thank my curator Jorinde Splettstößer and the Kunstraum Kreuzberg/Bethanien team for the invitation and support in realizing Hands Full of Air. This project was a labour of love to say the least, and I am so honoured to have been able to share it with all of you.